Painting Prices in Danvers, MA 01923
Are you wondering how much painting services in Danvers, Massachusetts cost? Pricing varies, of course, but if you're looking for a solid painting contractor in Danvers at a price that is fair, you've just found them! At Fine Line Painting, we like to assess the scope of the job at hand before quoting a price. We believe every painting job is unique, just as every surface is unique. Whether you want a price to paint the exterior of your Danvers home or just touch up the trim and front door, we'll assess the work requested and readily give you our best price.
We treat every painting or staining job as if our reputation depends on it (because we know that it does). The pride we take in our work shows in everything we do, but giving all our customers value for money is very important as well. While you might be able to find a cheaper painting contractor in Danvers, pricing generally reflects skill level and quality. We know you won't find a higher quality Danvers painter with the great pricing Fine Line Painting can deliver!
---
Call for a Free Quote
---
Our Danvers Painting Pricing Process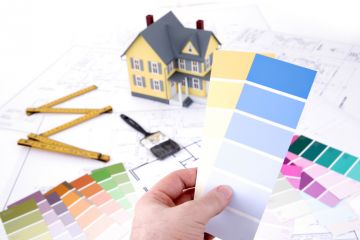 Rather than giving our customers a list of set prices, we follow a consistent and fair pricing process. After an initial phone discussion, we'll schedule a convenient time to visit you in person, whether at your home, office or wherever the work will take place. We'll listen carefully to your painting requirements. We'll take time to consider both your space, the materials needed and any other factors that may impact pricing the job.
Once you're happy that we have considered all aspects, we'll then calculate the cost to paint your Danvers home or office building. We'll provide you with a free written estimate as soon as we have it, although we don't like to rush such an important task.
The quote you receive will be based on a range of factors, including the required timescale, the nature of the work and the caliber materials you are looking for. For example, if you wish to change the color of your home's exterior, in Danvers the cost will be a bit higher than if you wish to stay close to the current color. Wherever possible, we will work within the confines of your budget, but we'll always be honest and upfront with prices.
We will guarantee this: Fine Line Painting always strives to complete work on time and within the established budget. Once we've given you a written estimate, you can take it to the bank!
The Best Painting Value in Danvers
Our experienced Danvers painting contractors are not only highly skilled and conscientious, but they provide painting services in Danvers at a great value. Over the years, we've successfully completed just about every imaginable type of painting project. There is no painting job we can't take on successfully.
While we don't claim to be the cheapest painting service in Danvers, we honestly believe we're the best. Call (978) 293-5566 and you will be in touch with a team that values attention to detail and building trust. We never cut corners to save time or money. Our reputation (and your home) is simply too important to us.
If you are looking for a Danvers painter for a cost-effective and high-quality job, call (978) 293-5566 for the best painting value in the area.
WHAT CUSTOMERS ARE SAYING:
5★★★★★ - "Fine Line Painting did excellent work on our home at a reasonable price. I would highly recommend them."
Bernie Kirstein in Billerica, MA
2019-07-16
---
5★★★★★ - "Ed is great"
Emily & Craig M., Painting in Lawrence, MA
2019-05-06
---
5★★★★★ - "Ed painted my kitchen cabinets as well as my great room, kitchen and powder room. Why Ed gets a 5 star rating 1. Professional 2. Prompt & Reliable- accurate on schedule start date, end date and arrival every day 3. Super nice and courteous-always returns phone calls 4. Reasonably priced 5. Awesome work My kitchen looks totally different and I would highly recommend Ed"
Linda S., Cabinet Refinishing in Burlington, MA
2019-05-06
---
5★★★★★ - "Ed and his crew did an excellent job painting the exterior of my house. Ed was very responsive answering any questions I had during and prior to painting. He always showed up on time and had no problem fixing little odd jobs. Very reasonably priced. I would highly recommend!"
Kristen P., Exterior Painting in Billerica, MA
2019-05-06
---
5★★★★★ - "I highly recommend Fine Line Painting. Ed did a great job on our interior paint job. I was worried that whoever I hired would be sloppy, and leave behind imperfections that would drive me nuts. I couldn't be happier with how clean every line is, and how great the house looks now.

Shawn M., Painting in Lowell, MA
2019-05-06
---
5★★★★★ - "All I can say is WOW. Ed you made my garage floor look like a garage from a Nascar pit crew. I almost hate to drive my car onto it. You added texture to the paint so there is no chance of slipping and it looks amazing. The price was great and I couldn't ask for anything more. Outstanding work."
John, Garage Floor Painting in Methuen, MA
2014-01-30
---
5★★★★★ - "Great job Fine Line my house has never looked better. Thanks for your hard work."
Homeowner, House Painting in Bedford, MA
2014-01-30
---
5★★★★★ - "Great job Ed, you and your crew did a remarkable job rebuilding my shed and painting my house. I will recommend you to anyone who needs your services in the future and you can be sure I will be calling you for my next project. Thanks again."
Tom, House Painting in Billerica, MA
2014-01-30
---
5★★★★★ - "Ed, just a quick note to say how much we love our new kitchen, you painted the walls ceiling and cabinets and it is amazing. Great price and great workmanship.  Thank you so much for your hard work."
John & Wendy, Cabinet Refinishing in Billerica, MA
2014-01-30
---
5★★★★★ - "Me and my wife are very impressed with the interior painting Ed did for us.  He's a real perfectionist, living up to the name Fine Line Painting. He even offered to do some extra work without adding to his initial quote.  I would highly recommend his work."
Shawn and April M, Interior Painting in Acton, MA
2012-07-23
---
5★★★★★ - "I wanted to write you a quick note thanking you and your team for doing a great job cleaning my gutters and power-washing my driveway! I sincerely appreciated your honesty and professionalism, and look forward to doing business with you soon!"
Kosta, Gutter Cleaning in Acton, MA
2012-06-28
---
5★★★★★ - "Just a quick note to thank you for the excellent job you did cleaning my gutters and power washing my house.  The house looks spectacular and my wife is thrilled!  I appreciate your prompt service and the way you treated me as a customer.  I will definitely call you next time my house needs washing."
Dana, Pressure Washing in Medford, MA
2012-06-19
---
5★★★★★ - "I recently had Fine Line Painters clean my gutters and powerwash my house and 600 feet of fence. Ed and his team were friendly, courteous and most of all efficient. They finished the job quickly and now my home and fence look like new and my gutters are ready for the Massachusetts weather. Ed  showed up when he said he would and the price came in less than I expected. Ed even took the time to show me where the problem spots were in the gutter and gave me great advice on how to properly seal my wooden deck. I highly recommend Fine Line Painters for the quality of their work and the integrity of theirteam. I will definitely use them again."
Jamieson W, Gutter Cleaning in Bedford, MA
2012-06-15
---
5★★★★★ - ""I can't believe how good the flooring came out. It looks absolutely perfect not to mention how much the value of my home went up when the job was complete. Ed and his crew where very professional and courteous. I love my new flooring and would recommend Fine Line Painting to anyone. I will definately be calling Ed for my next project. Thanks for a great job."
Bill and Lori M, Floor Refinishing in Andover, MA
2012-06-05
---
5★★★★★ - "I highly recommend Fine Line Painting.  The crew was not only meticulous in their work but incredibly professional and courteous.  Once Ed, takes on a job, he sees it through to the end, keeping his commitment on the time and quality of the job.  Additionally, he was willing and capable of addressing a multitude of additional repairs that we discovered needed to be done, as the work progressed.  And half way through the job, when I asked if he could fix a screened in porch and use the scrap wood to build a sandbox for the kids, he didn't hesitate to say, "Sure no problem!" My only regret is that I didn't listen to Ed when he joked about the color of the paint and how the paint job might last longer than I my color preference.  I think its time to have him back...He was right about that!" Shannon, Wilmington, MA"
Anonymous, House Painting in Wilmington, MA
2012-05-15
---
5★★★★★ - "I just wanted to let you know we are so pleased with the way the bedroom, dining room and hallway came out....the colors are perfect! Everyone who has seen it loves it! Thanks again."
Sue F., Interior Painting in Salisbury, MA
2012-05-15
---
Call for FREE Painting Prices Quote
---
Painting Prices available in the following Danvers, MA zip codes: